Choristers Guild
Where Body, Mind and Spirit Find Voice !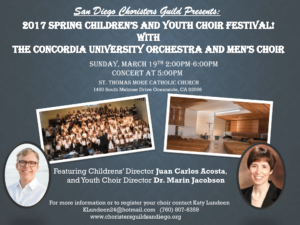 Thank you for choosing to register for this years festival.  Please print a PDF form to fill out and mail it to us by postage mail with your payment. You can also contact Katy Lundeen to make last minute arrangements in case of late registration.  (deadline to register is March 12, 2017)
Please find 2017 Spring Choir Festival detailed information below the following registration options.
---
2017 Spring Choir Festival Registration Form
(US mail method)
| | |
| --- | --- |
| You can also use this PDF form to register for the 2017 Choir Festival: | |
| Print this flyer about the 2017 Choir Festival with your friends! | |
---
2017 Spring Choir Festival Details
Location and Schedule  
St. Thomas More Catholic Church
1450 South Melrose Drive
Oceanside, CA 92056
March 19, 2017 – Festival Schedule:
13:30 – 14:00   Registration / check-in
14:00 – 15:00  Teens in sanctuary, Elementary in Great Hall
15:00 – 15:15   Snack break
15:15 – 16:00   Elementary in sanctuary, Teens in the choir room
16:00 – 16:30  All singers in the sanctuary
16:30 – 16:40  Break
16:40                All in sanctuary to hear student organists
17:00 – 18:00  Evensong / concert
---
 2017 Spring Choir Festival Repitoire
Combined Anthems:
"Song " by Author name
Audio:  https://link
Ordering:  http://link
Instructions: Children on melody, two-part if you can do it. Youth on SATB all the way through. Repeat to beginning after  m.29 (loved us)
Youth Choir (~6th-12th grade):
"Song " by Author name
Audio: https://link
Ordering: http://link
Children (~1st-6th): If possible, have children learn both parts
"Song " by Author name
Audio: https://link
Ordering: http://link
---
Meet the distinguished music leaders who will teach our youth:
Juan Carlos Acosta:
Children's Director
Juan Carlos Acosta is
---
 

Dr. Marin Jacobson

:
Youth Choir Director
Dr. Marin Jacobson is
---