Choristers Guild
Where Body, Mind and Spirit Find Voice !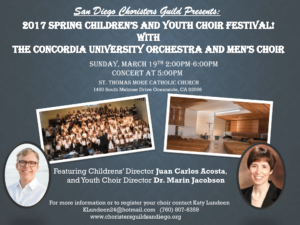 Thank you for choosing to register for this years festival.  Please print a PDF form to fill out and mail it to us by postage mail with your payment. You can also contact Katy Lundeen to make last minute arrangements in case of late registration.  (deadline to register is March 12, 2017)
Please find 2017 Spring Choir Festival detailed information below the following registration options.
---
2017 Spring Choir Festival Registration Form
(US mail method)
| | |
| --- | --- |
| You can also use this PDF form to register for the 2017 Choir Festival: | |
| Print this flyer about the 2017 Choir Festival with your friends! | |
---
2017 Spring Choir Festival Details
Location and Schedule  
St. Thomas More Catholic Church
1450 South Melrose Drive
Oceanside, CA 92056
Welcome to the Choristers Guild 2017 Spring Children's and Youth Choir Festival!
Date: Sunday, March 19th
Time: Registration begins at 1:45, and the grand concert will start at 5:00pm.
Address: St. Thomas More Catholic Church  1450 South Melrose Drive
Oceanside, CA 92056
Dress: Any combination of black and white (i.e. white shirt, black pants or skirts, or black dress) You may wear comfortable clothes for the rehearsal and change during the break if you choose. Wear comfortable shoes, there is a lot of standing.
Snacks: Healthy snacks and water will be provided. BYO if you have dietary issues.
Music: If you need to use your music (youth choir, mostly), please put it in a black folder if possible. We will provide lyric sheets for "Church's One Foundation" and "Jesu Joy".
Cost:  Cost is $5 per singer, either paid through your choir director or by you when you arrive. There will be a free will offering during the concert. Donations are greatly appreciated!
Phones:  Cell phones need to be TURNED OFF and put away during rehearsal time. We are not responsible for lost items, so please do not bring anything that you can't bear to lose!
Chaperones: Adult directors and chaperones are welcome, and your help with lining up kids and monitoring outside space and bathrooms is appreciated.
Questions?:  Contact Katy Lundeen with questions. Klundeen24@hotmail.com  (760) 807-6359
12:30-2:00 Orchestra set-up and Student organist practice
| | |
| --- | --- |
| Children's Choir | Youth and Men's Choir |
| 1:45-2:00  Registration | 1:45-2:00  Registration |
| 2:00-3:15  Rehearse in Gym | 2:00-3:30 Rehearse in sanctuary |
| 3:15-3:30  Water break | 3:30-3:45 Water break |
| 3:30-3:45 Rehearse in sanctuary with violins | |
| 3:45-4:30  Sanctuary with orchestra | 3:45-4:30 Sanctuary with orchestra |
| 4:30-4:50  Snack break/ change clothes | 4:30-4:50  Snack break/ change clothes |
| 4:50 Line up and sit in reserved pews | 4:50 Line up and sit in choir loft area |
| 5:00 Concert! | 5:00 Concert! |
---